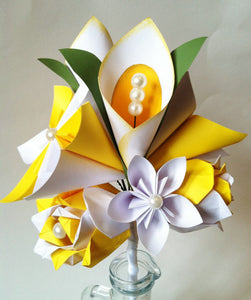 Calla Lily Paper Flower Bouquet
Bright, one of a kind, this arrangement of 10 paper flowers makes the perfect traditional 1st anniversary gift or bridesmaid bouquet. 

Containing 2 one of a kind calla lilies, 3 roses and 5 flowers each flower is finished with a cream pearl and the bouquet is wrapped securely with white ribbon. The bouquet measures approximately 7 inches in diameter and 10 inches tall. 
Your order will ship within 1 week of purchase. If you need the flowers by a specific date please leave me a note on the checkout page so I can ensure arrival in time. (If you need them delivered within 1 week of today please send me a message before you purchase so I can determine if we can accommodate your order)