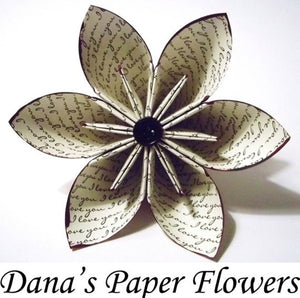 Custom order for Micaela
12 inch round bridal= $185
2 bridesmaids, $85 each= $170
Grooms boutonniere= $30
2 hydrangea corsages, $12 each= $24

2 groomsmen, 3 flowers= $20 each= $40

2 father boutonnieres=  $12 each= $24

1 hairpiece= $40
Total= $513 + shipping

Shipping, 1 large box = UPS 3 day is the service we usually use, $60.
25% = $128
Balance due = $385 + shipping
colors = tbd once she sees samples

sheet music = Can't Help Falling in Love by Ingrid Michaelson and Come Away with Me by Norah Jones
maps = (Minnesota, South Dakota, Spain
We're envisioning the bulk of our flowers to be colored with maps/music as accents.
-mixture of the music and maps for the smaller pieces - no specific preferences for what those combinations look like.
-use a mix of flower types (include some splashed)
-see her photos of hair piece for inspiration
-cream pearls