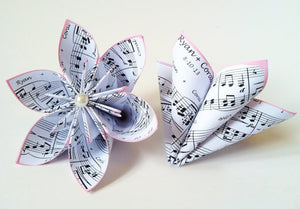 Set of 2 Personalized Sheet Music Flowers
An exciting opportunity to create sheet music printed with your names, anniversary date and "I love you" - or any message you'd like! Creative use of your vows, inside jokes and nicknames will make these delightful flowers a meaningful and lifelong gift. Each flower measures 5 inches across and is dipped in the color of your choice and finished with the perfect embellishment. 
This product includes personalized flowers. Please include your anniversary date or a short personalized message in the "notes" section on the checkout page.
All of our products are handmade. Your order will ship within 1 week of purchase. If you need the flowers by a specific date please leave me a note on the checkout page so I can ensure arrival in time. (If you need them delivered within 1 week of today please send me a message before you purchase so I can determine if we can accommodate your order)